Minelab Go Find 22,44,66
Metal Detectors
Minelab GO-FIND Metal Detectors
Three new models are now available – the
GO-FIND 22, 44 and 66
, which will replace the
GO-FIND 20, 40, and 60
models. New GO-FIND Series models have been designed with increased sensitivity so that targets can be identified at greater depth when compared to the original GO-FIND Series models. The new models are constructed using the same proven collapsible, lightweight platform and feature the same easy-to-use consumer interface which the original GO-FIND Series successfully brought to market in 2015.
All 3 new GO-FIND Series models will ship with 2 protection skins so that you can customize and protect your detector according to your visual preference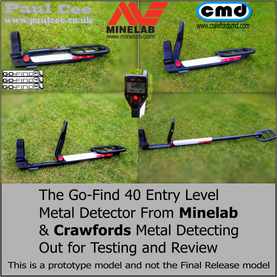 These
easy to use detectors
have been created especially for newcomers to take up
metal detecting
, with a great range of features at very affordable prices. GO-FIND detectors require no assembly, collapse to a small size for transport, and are very lightweight. The GO-FIND 40 and 60 have Treasure View LED indicators to show possible trash & possible
treasure finds
, and also Bluetooth integration to work with Minelab's GO-FIND apps that have Coin ID and Google Maps capability. Pack a GO-FIND for your next outdoor adventure. It's awesome fun for the whole family!
Review of the GO-Find 44 and Test on pasture, it is really a great detector to get you into the hobby
Minelab Go Find metal detectors ideal for kids and beginners
minelab go-find metal detector ideal for beginners and children