Minelab Pro find user guide
Metal Detectors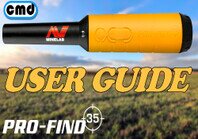 The Minelab Pro Find Probe
The Minelab Pro Find Probe Range is packed with advanced and innovative features. This tough, waterproof pinpoint probe is possibly the best on the market for metal detecting probes, with user guide,
Waterproof to 3 m (10-ft) - Rugged waterproof design ideal for beach and river pinpointing. The perfect companion for a waterproof detector.
Audio & vibration indication - Audio tones and vibration intensify as the probe approaches the target making target recovery easier, especially underwater!
Adjustable sensitivity - Five sensitivity levels allow you to precisely adjust for maximum depth and minimum noise in all ground conditions. Easily adjustable with separate +/– buttons
High visibility – with lost-alarm - The PRO-FIND's bright yellow handgrip is clearly visible for easy location, so you won't leave it behind after you dig. Quickly locate your forgotten pinpointer with the handy lost-alarm
Holster & lanyard included - A lanyard and a tough, semi-rigid holster that attaches to any belt will keep your PRO-FIND at the ready
Multi-language instructions
For help setting up and using your Minelab PRO-FIND check out the video...
MINELAB Pro Find, how to set up the features and tones for metal detector Probe, how to set and use ferrous tones, how to adjust sensitivity, how to turn the volume on and off finds recovery, and maintenance.
minelab pro find settings, features and functions